A Technical Service Bulletin (TSB) Summary is a summarized (abbreviated) article, published in a Technical Service Bulletin Index.
As an aid to the service technicians, Ford would periodically release a TSB Index. This Index contained Summaries of previously-published TSB articles, but typically didn't include graphics, tables and/or part numbers. The Summary would simply 'remind' the technician what information the actual article contained and where to find the full article. In some cases, if the actual TSB article was already short (a paragraph or two), the entire article would be reprinted in the TSB Index. However, if the TSB article is longer, and contains tables with part numbers, a lengthy repair/adjustment procedure, etc, then the Summary article tells the Technician what information is contained in the full article and where to find it. This made it much easier to index and search through several years worth of TSB releases quickly.
For example:
Fig 01 (below) shows an example of the TSB Index. This one contains TSB article summaries for January 1967 through December 1969 and contains 88 pages.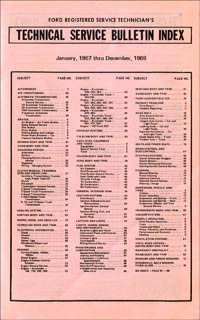 FIG. 01
You can see how the article summaries are sorted by subject, to make finding a specific article much easier. Let's say a technician recalled reading an article discussing the free play settings for the accelerator pedal on Ford pickups. By looking under the 'Fuel System' subject listing on the front page of the TSB Index (Fig. 01), he sees the listing for 'throttle linkage' listed on Page 47. So he turns to Page 47 in this TSB Index and sees this: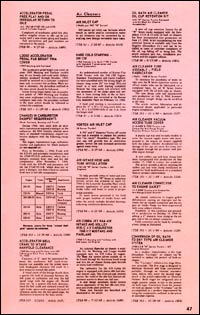 FIG. 02
He then quickly scans the page and sees that the first article summary on this page is entitled "Accelerator Pedal Free Play and/or Irregular Return to Idle". He reads it, and notes that the summary specifically tells him that "..full instructions and part numbers are contained in the article...", which is then shown as having been published in TSB #99 dated 9/27/68 as Article #1489.
The technician is then able to pull the appropriate 3-ring binder which contained all the TSB releases. He finds TSB #99, as shown below (Fig. 03)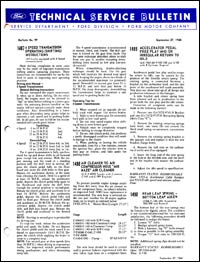 FIG. 03
He then searches this 8-page TSB for Article #1489, which happens to be on the front page, and reads the complete article, which contains the necessary part numbers and adjustment procedures for correcting his customer's complaint.