TSB #84 - January 26, 1968
(1968 Thunderbird Equipped with Bench Seat)
---
The instrument panel ash receptacle used on bench seat models incorporates a break-away feature that allows the fully extended receptacle to separate and pivot downward from its outer retainer in case of impact. Complaints have been received that the break-away effort in some cases is considerably less than specified and as a result the receptacle may break-away with a slight downward pressure. The receptacle inner retainer also disengages, allowing the receptacle to completely separate from the outer retainer permitting the four ball bearings to become dislodged and fall on the floor.
Corrective measures have been taken and units built in November have a new design ash receptacle retainer which provides the necessary rigidity to meet the break-away effort specifications.
Customer complaint units can be corrected by installing the new design ash receptacle retainer available under Part Number C8SZ-6504826-A. If necessary the ball bearing can also be procured under Part Number 354872-S.
The following procedure should be used to install the new retainer:
1. Depress the release tab and slide the ash receptacle out of the instrument panel.
2. Remove the four screws that secure the outer retainer to the instrument panel, see Fig. 1. Remove and discard the outer retainer.
3. Procure the new design ash receptacle outer retainer, Part Number C8SZ-6504826-A.
4. Position the new outer retainer in the instrument panel and install the four retaining screws.
5. Apply a light coat of lubriplate to the ball bearing guides and install the ash receptacle.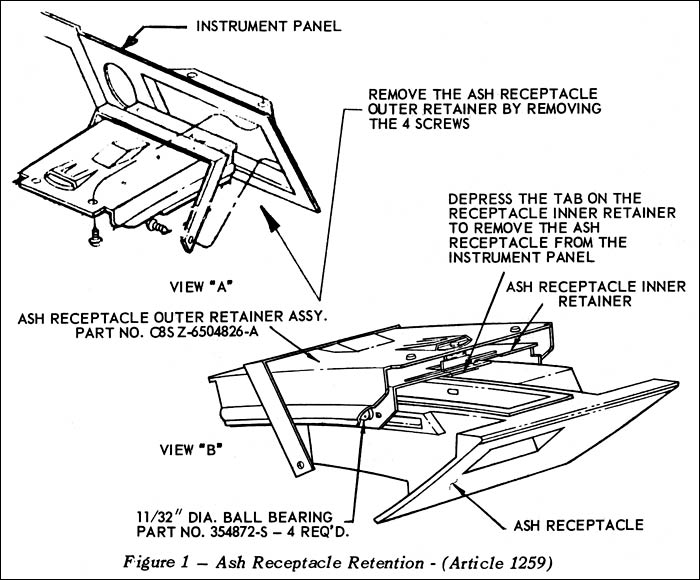 WARRANTY STATUS -
REIMBURSABLE
Oper: SP-04826-A-68 Time: 0.3 hr.