TSB #84 - January 26, 1968
(All 1968 Thunderbirds Built Prior to September 7, 1967)
---
Some owners of 1968 Thunderbirds may complain of coolant loss coming from seam leaks in the lower radiator area. A number of Wixom-built 1968 Thunderbirds assembled prior to September 7, 1967 were inadvertently equipped with the wrong left hand radiator support lower bracket which could twist the radiator when it is secured in place thereby pre-stressing the solder seams causing a leaking condition.
When encountering complaints of radiator leakage on 1968 Thunderbirds, inspect the radiator left hand lower mount area for improper support bracket usage. If, when looking down from the top, the driver's side lower corner of the radiator is located approximately 3/4" further rearward than the passenger side lower corner, an incorrect left hand bracket has been installed and must be replaced with a correct part (Part No. C8SZ-8052-C). See Fig. 4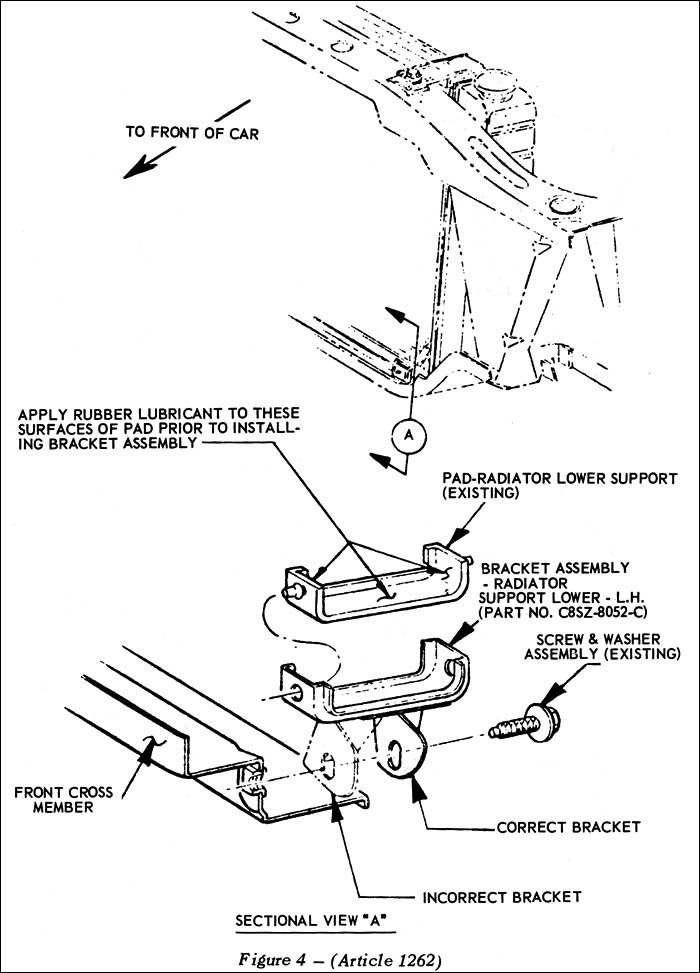 Refer to the 1967 Thunderbird Shop Manual, Section II, page 5, for proper removal and installation procedures.