TSB #85 - February 9, 1968
(1967 "W" Series)
---
Since April 24, 1967, the "W" series trucks have been built with the ignition switch on the instrument panel located in a more convenient position. This improvement can be incorporated into previous production trucks as outlined below:
1. Obtain one #74251-S2 steel plug button. (Other plug buttons are acceptable depending upon availability.)
2. Remove the ignition lock cylinder as described in the 1967 Truck Shop Manual - Volume 3, Page 15-15.
3. Remove the instrument panel light shield and the cluster opening cover attaching screws as described in the 1967 Truck Shop Manual, Volume 3, Page 15-18.
NOTE: Do not remove the cluster opening cover.
4. Using the supplied template, add an ignition switch notched hole to the new location on the top oblique surface of the instrument panel under the road condition switch as shown in Fig. 1.
5. Raise the cluster opening cover just high enough to reach in and remove the switch from the original location and reinstall it to the new location.
NOTE: There is no need to disconnect or change the switch wiring.
6. Reinstall the ignition switch bezel and the lock cylinder.
7. Reinstall the instrument cluster cover and the light shield.
8. Install the steel plug button into the unused ignition switch hole.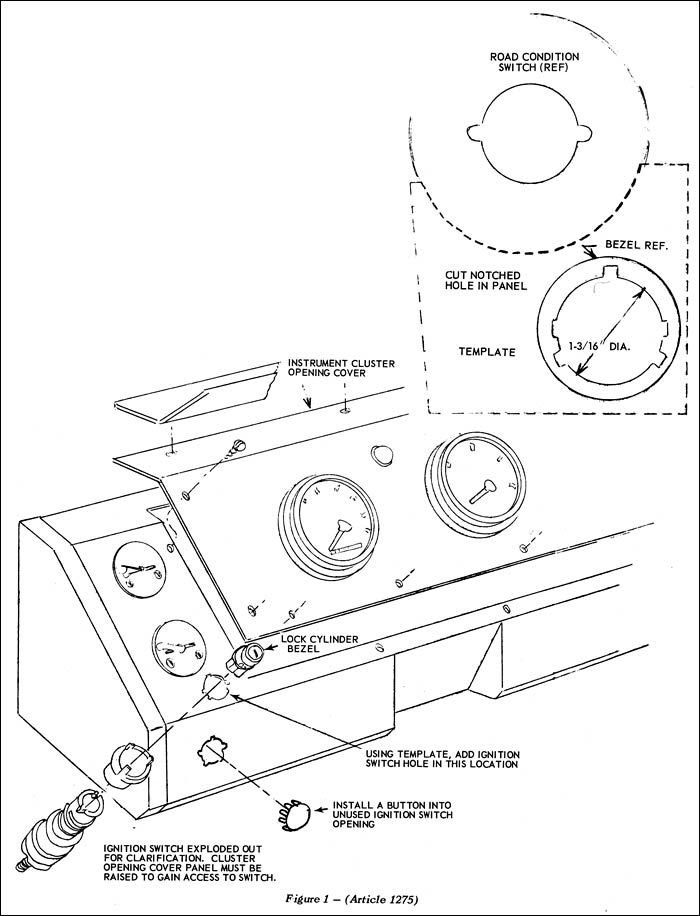 WARRANTY STATUS
-
REIMBURSABLE
Oper: SP-11572-A-67 Time: 0.8 hrs.