TSB #86 - February 23, 1968
(1968 Fairlane, Falcon and Mustang - All Models)
---
Customer complaints of cowl water leaks may originate at the fresh air duct attaching studs. These studs are welded to the underside of the cowl top inner panel and occasionally are broken off. A small "nugget" of the cowl panel (which is the bottom surface of the plenum chamber) is also pulled off resulting in a water leak. Both right and left duct attachments are affected on the Fairlane and Falcon. Only the left duct is affected on the Mustang.
Proper repair procedures have been incorporated in all plants as of January, 1968. Customer complaints units can be corrected as follows:
1. Procure the following repair parts for each stud failure:
C8OZ-54270A50-A - Door Window Regulator Mounting Bracket Spacer (to function as an expanding type fastener for the fresh air duct)
374576-S36 - Washer 15/64 I.D. x 3/4 O.D. x 1/16" Thick (the above washer can be substituted by a washer down to size 7/32 I.D. x 5/8 O.D. x 1/32" Thick)
31093-S7 or S8 - Screw #8 - 32 x 3/4 " or equivalent
2. Remove cowl air duct and control cable as an assembly to provide clearance for the drill motor.
3. Drill a 5/16" diameter hole in cowl top inner panel where the stud pulled loose. Also, enlarge the existing hole in the air duct to match the hole in the cowl top inner panel.
4. Install the cowl air duct to the cowl top inner panel.
5. Assemble the screw and washer into the procured fastener only far enough to start the screw thread.
6. Insert the fastener assembly through the hole in the air duct flange and into the drilled hole in the cowl. Refer to Fig. 2.
7. Hold the flange of the fastener and tighten the screw securely so that the shank of the fastener is pulled downward and expands to retain the duct, and seal the leak.
Water test the problem area after repair to assure that an adequate seal was obtained.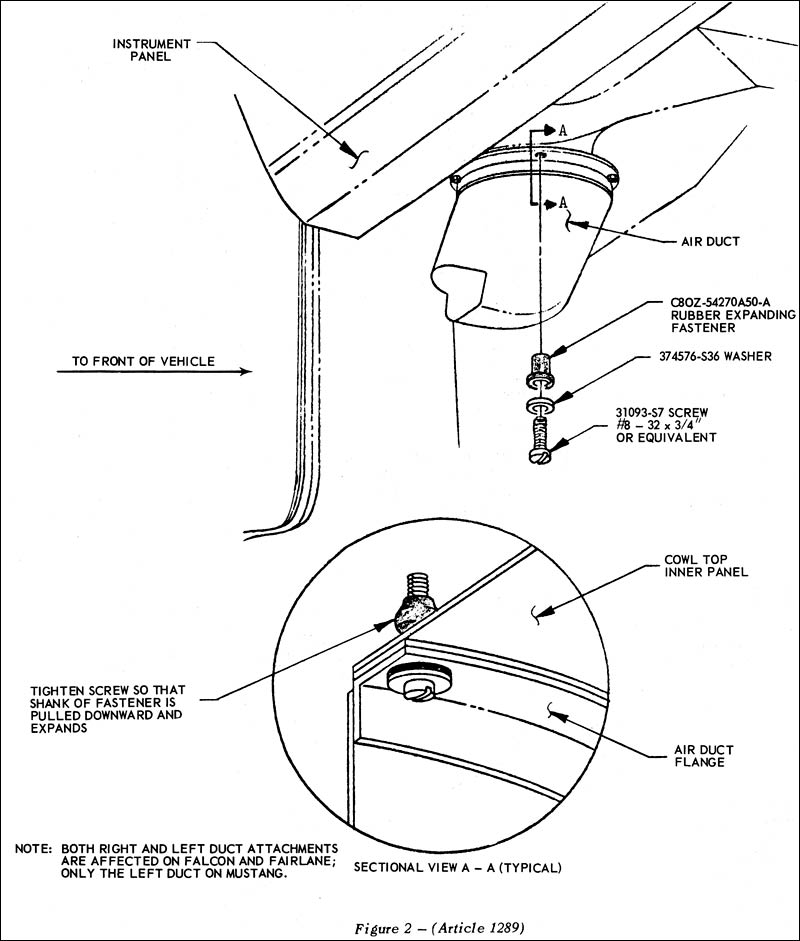 WARRANTY STATUS
-
REIMBURSABLE
Oper: SP-01934-A-68 Time: 0.7 hrs.