TSB #86 - February 23, 1968
(1968 Ford Models 63 and 65)
---
Customer complaints of high quarter window operating efforts and/or damaged quarter window weatherstrip have been received on some 1968 Ford hardtops. This condition may be caused by the front edge of the quarter window weatherstrip contacting the rear outer corner of the quarter window front upper stop when the window is being raised.
This problem was corrected at the assembly plants approximately December 1, 1967 with the incorporation of an improved stop which has the outboard corners rounded off. Customer complaint units can be corrected as follows:
1. Remove the quarter lock pillar to window frame seal assembly. (See Fig. 3).
2. Remove the screw that attaches the front upper outboard corner of the quarter trim panel.
3. Push the trim panel up and inboard to expose the front upper stop attaching screw and washer assembly.
4. Adjust the stop to relieve the interference.


NOTE:

If sufficient clearance cannot be obtained, proceed as follows:
5. While holding the subject stop, remove its attachment.


NOTE:

Be careful not to drop the stop into the quarter panel.
6. Rework the stop by grinding a 5/16 " radius on the rear outboard corner and remove all burrs as shown in Fig. 3.
7. If necessary, replace the quarter window front weatherstrip.
8. Reinstall the stop and the screw that retains the front corner of the trim panel.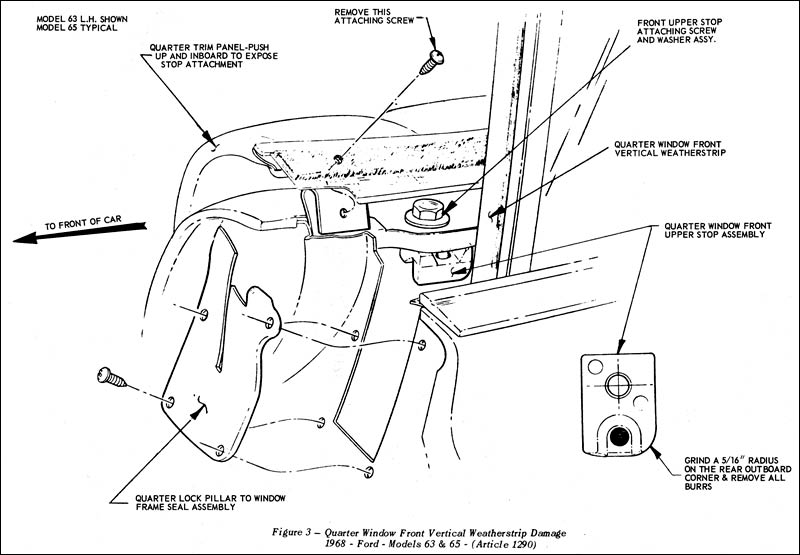 WARRANTY STATUS
-
REIMBURSABLE
Oper: SP-30146-A-6
Quarter window stop rework Time: One side ..0.5 hrs.
Both sides. 0.6 hrs.