TSB #86 - February 23, 1968
(1968 Fairlane - All Models)
---
Customer complaints of the front fender contacting or being "grounded" to the bumper have been received on some early built Fairlanes. This condition is attributed to loose front fender brace attachments and was corrected in production in mid-October, 1967 by revising the brace attachments.
Units encountering this problem in the field can be corrected by the following procedure:
1. Procure the following parts:
| Part Name | Part No. | Req'd/Vehicle |
| --- | --- | --- |
| Screw - 1/4-20 x 3/4 " | 359289-S8 | 2 |
| Nut Retainer - 1/4-20 | 354394-S2 | 2 |
| Flat Washer - 1/4" | 44719-S8 or Equiv. | 2 |
2. Remove and discard the screw attaching the fender brace to the front bumper outer arm. (See Fig. 13).
3. Remove the screw attaching the fender brace to the fender.
4. Install one nut retainer (Part No. 354394-S) on the inboard end of the brace.
5. Drill out the brace attaching hole in the bumper outer arm using a 5/16" drill.
6. Install the fender brace assembly using one new screw (Part No. 359289-S8) at the inboard end and the existing screw and new washer (Part No. 44719-S8) or equivalent at the outboard end. Tighten both screws to 30-50 inch lbs. torque.
NOTE:
Before securing the fender attachment, pull the fender inboard sufficiently to completely clear the bumper.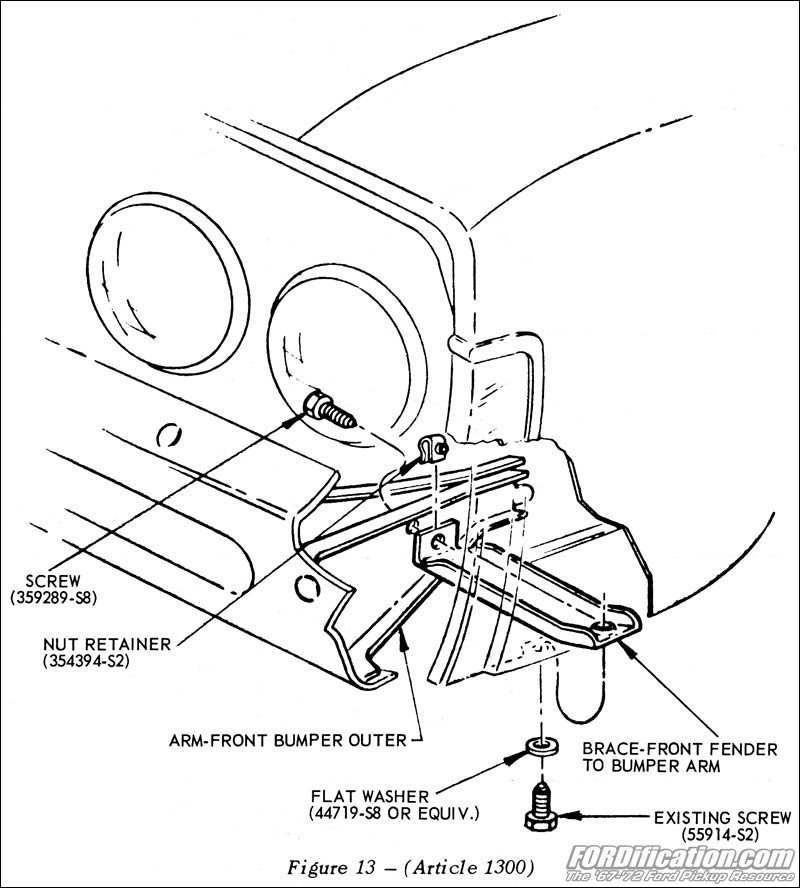 WARRANTY STATUS
-
REIMBURSABLE
Oper: SP-16005-A-68 Time: 0.4 hrs. (both sides)