TSB #157 - January 22, 1971
(All with 351C, 351W or 400 CID Engines - 1971)
---
Adjust to specification as in Table 1 and modify the accelerator pump rod as shown in Figure 10.
When removing the accelerator pump rod, depress the curved side of the pump retainer clip and push the rod from the clip, then remove the rod from the keyway in the pump lever.
Reinstall the rod in the inboard position on the pump lever and in the No. 4 (top) position of the accelerator pump over-travel lever.
TABLE 1
Engine/Transmission
351-C/M
351-C/A
351-W/M
351-W/A
400/A
Initial Ignition
Timing RPM-ldle/Kickdown Step
Choke Cap/Setting
6°BTDC
750/1500
TB3/I
6°BTDC
625/1500
TB4/1R
6°BTDC
775/1400
TB5/1R
6°BTDC
600/1600
TB4/1R
6°BTDC
625/1500
TB3/I
Distributor Dwell: 24.5° - 29° DUAL DIAPHRAGM; 27° - 31.5° SINGLE DIAPHRAGM
Distributor Point Gap .021" DUAL DIAPHRAGM; .017" SINGLE DIAPHRAGM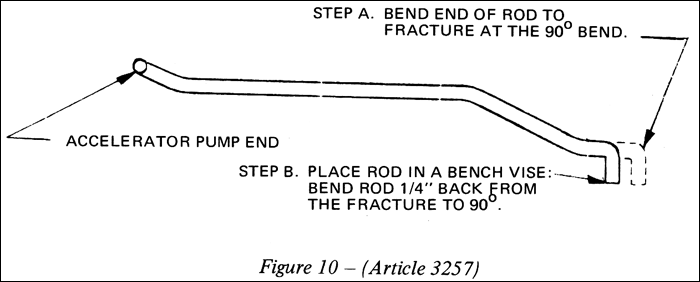 PARTS: None.
PRODUCTION CORRECTION: None.
WARRANTY STATUS:
Reimbursable within the provisions of the Warranty & Policy Manual.
Operation: SP-9510-B-71 Time: 0.4 Hr.
DLR. CODING: Basic Part 9510 - Code 82