TSB #1 - September 15, 1971
(Ford - 1971)
---
CONDITION:
Poor A/C performance under recirculating or Max A/C operating conditions.
CAUSE:
The fresh air damper located in the air inlet cowl may hang-up in the open position.
CORRECTION:
A.
Remove the cowl air inlet screen.
B.
Set the A/C controls for MAX A/C (High Auto-65° for ATC) engine operating, and inspect the damper door. If the damper door is not closed, perform the following:
1. Force the damper door past the metal stop to the closed position. (See Fig. 9).
2. Obtain a piece of rubber vacuum hose, 1/4" I.D. -1-1/4" long.
3. Insert the vacuum hose over the metal stop. (See Fig. 9.)
4. Check door to ensure proper operation. C. Install the cowl air inlet screen.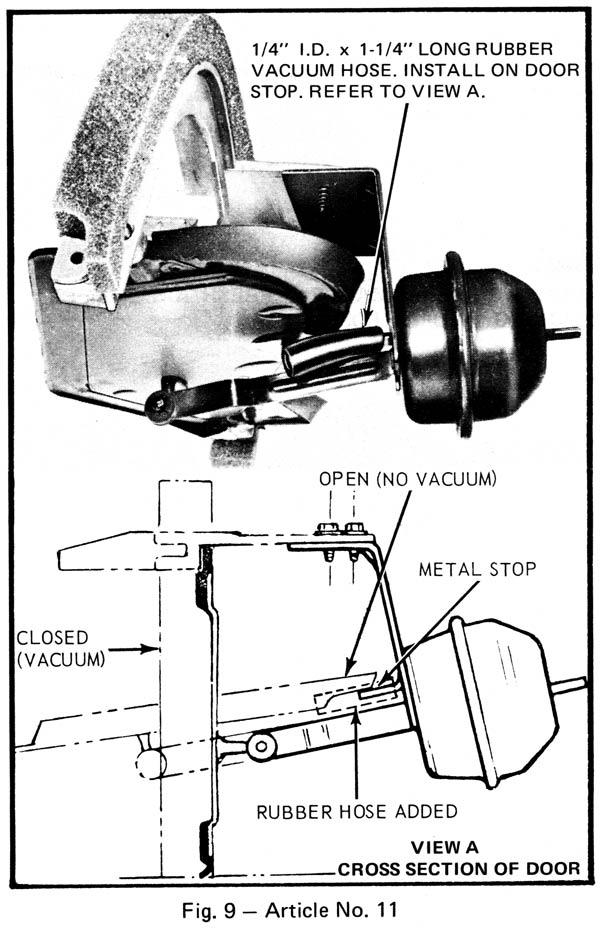 WARRANTY STATUS:
Reimbursable within the provisions of the Warranty and Policy Manual.
Operation: SP-17508-A-71
Time: 0.3 hr.
DLR. CODING: Basic Part No. 17508 Code 41