TSB #158 - January 29, 1971
(Pinto with Manual Transmission - 1971)
---
Pinto vehicles produced after November 1, 1970, have a new clutch free play adjusting system that incorporates a threaded section on the flexible clutch cable instead of a series of grooves and the "C" clip used on early models.
When installing this new clutch cable, adjust free play as follows:
1. From under the car, release the cable locknut and adjusting nut at the flywheel housing boss. (See Figure 3 .)
2. Pull the cable toward the front of car until free movement of the release lever is eliminated (zero free play).
3. Holding the cable in this position, place a .235 spacer against the flywheel housing boss (on the engine side) and run the adjusting nut against the spacer finger tight.
4. Tighten the locknut against the adjusting nut, being careful not to disturb the adjustment. Torque the locknut to 40-60 lb. ft. and remove the spacer.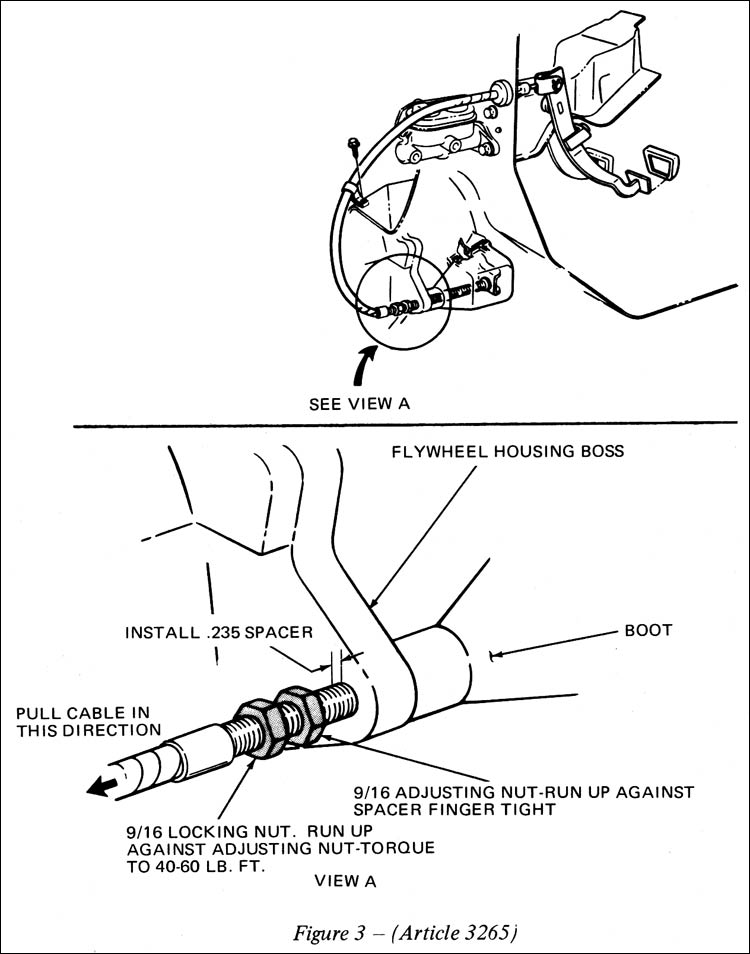 PARTS: D1FZ-7K581-A - Clutch Release Cable — Class "C" — Available.
PRODUCTION CORRECTION: November 1, 1970.
WARRANTY STATUS:
Reimbursable within provisions of Warranty & Policy Manual.
Operation: SP-7580-A-71
Time: 0.2 Hr.